Investing can seem intimidating. Lots of fancy words and fast talkers. While there are those that are looking to profit by keeping it that way, at Evermore we want to make investing easy to understand and more accessible.
Here's the great news: the real "secrets" of wealth building are straight-forward and aren't secret at all.
If you are just getting started or trying to reboot your approach to money and investing, here are five key building blocks to help build your wealth.
1) Improve your financial literacy
Financial literacy can make or break your investing journey. The more financially literate you become, the better your decisions. With better decisions comes more confidence and less stress. In addition, financial literacy is the best defence against people and companies looking to exploit you. By starting to understand the basics you can get a clearer view of how suitable, straight-forward investing can help you build wealth. Be sure to also check out the rest of our blogs, our videos on YouTube, and subscribe to our newsletter to receive easy to understand information on personal finance right in your inbox.
2) Your goals come first
What exactly are you investing for? If you're thinking about investing, it's important to understand what you're trying to achieve, whether your goals are in the next four months or the next forty years. Each of your goals will have a timeline, and how you invest and save to achieve your goals is dependent on that timeline. You shouldn't invest your money in your emergency fund and your retirement fund in the same way. To learn more about "Goal-Based Investing" and how your goals determine your investment decisions, check out this article.
3) For the long-term, seek low-fee diversification
Long-term investing, like investing for retirement, will likely mean investing in stocks to varying degrees, depending on the timelines of your goals. But how do you do this is a suitable manner? This is where many people check-out because it seems too complicated. Successfully picking individual stocks yourself is complicated and risky. Even professional money managers who pick stocks for a living fail to beat the market as a whole (check out the SPIVA Scorecard to see their results around the world). SPIVA Scorecard to see their results around the world). Furthermore, on average, the kinds of funds where professional managers try and pick stocks also have the highest fees! At Evermore, we believe in investing in the market as a whole through low-fee diversified indexing, because that is the approach supported by decades of data and evidence. Our fund line-up, the Evermore Retirement ETFs, are low-fee, index-based target date funds designed specifically for retirement investing in RRSPs and TFSAs. Each Retirement ETF is built to adjust your exposure to stocks and bonds automatically in accordance with your retirement timeline, helping you be suitably invested for retirement at any age.
4) It's all about compound growth
When investing for long-term goals like retirement, you should take advantage of the benefits of compound growth. Compounding means letting time itself do the heavy lifting. Compounding is the return earned on the money you have saved as well as on the returns earned in previous periods. This essentially means that you money will grow exponentially. Therefore, by investing as soon as possible with a vision for the long run, you will be able to maximize the power of compounding on your earnings. Watch this easy to understand video on compounding to help you learn how time is on your side!
5) Start investing now!
We've left the best for last; start now! You may currently be waiting for the perfect time, but it's important to understand that even a little bit from time to time goes a long way. Not only are you able to take advantage of the power of compounding ASAP, but you can also gain the habits and skills that can lead you to improve your financial literacy. Soak in the tips you've learned today and get started as soon as you can!
Evermore has started the $20 challenge for beginners to begin investing, even if only a little at a time. Investing as little as $20 towards your retirement every time you get paid can turn into a significant amount of money over time – think of it as paying yourself first. Check out what $20 every paycheque can turn into in forty years: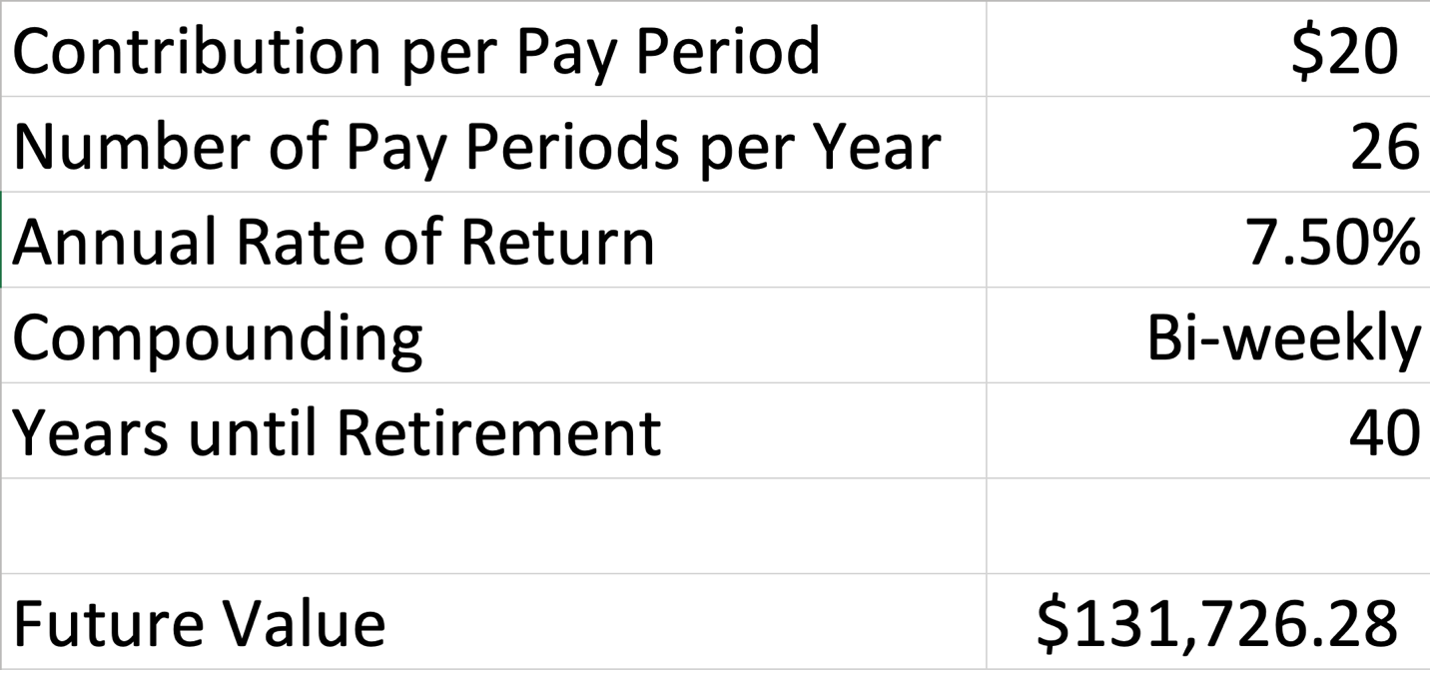 If that's what $20 a pay cheque could do, imagine what you could accomplish as you are able to increase your contributions to your retirement accounts.
Evermore is here to help you along your journey towards retirement. Be sure to subscribe to our newsletter and our social channels like YouTube to continue to receive valuable information about investing and personal finance.