Famed VC investor Marc Andreessen said "Software is eating the world" referring to how technology was disrupting traditional industries. As technology was adopted, technology companies exhibited massive growth rates, strong free cash flow and well funded business models resulting in one of the best performing sectors the last few years. Of course, so far in 2022, you wanted to be in on energy stocks because years of underinvestment, war in Ukraine, and oil as an inflation hedge made it the best performing sector. In 2012, post the global financial and Euro debt crises, governments had come to the aid of the banking system resulting in financials stocks as the best performer that year. In 2006, real estate was the best performing sector because weaker borrowing standards propelled property prices to all time highs (until the global financial crisis happened the next year).
Many market commentators push the message that investors need to be in the best performing sectors and avoid the worst performing sectors, making you feel like you don't want to miss that next trade, trend, or idea. They are selling FOMO or the "Fear of Missing Out." In other words, the fear of not holding investments which generate high returns (especially if your neighbor likes to brag about (apparently) holding those investments).
So, what do you need to do? Give in to the FOMO, make your picks and hope it all works out?
Let's take a look at annual sector performance of the S&P 500: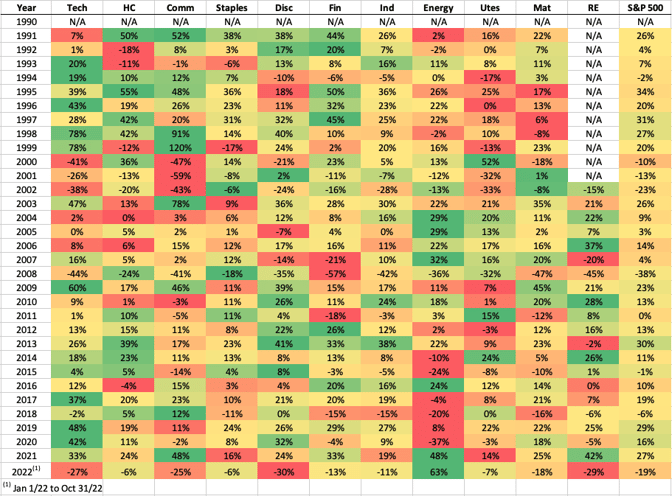 Source: Bloomberg. Legend: Tech = Technology, HC = Health Care, Comm = Communications, Staples = Consumer Staples, Disc = Consumer Discretionary, Fin = Financials, Ind = Industrials, Utes = Utilities, Mat = Materials, RE = Real Estate.
The green coloured cells are the best performing sectors while the red coloured cells are the worst performing sectors in that year. Many times, the best performing sector is the among the worst performers the next year. You can see making the right sector calls is easier said than done and one could argue these results are quite random too. You would also likely endure significant emotional stress and time pursing this strategy.
So why not just own all the sectors? Instead of stressing about which sectors to buy or sell, you could just own the entire S&P 500 through an index fund or ETF. In the table above, the far-right column shows the annual performance of the S&P 500 which is a weighted average of all the sectors. As a holder of the index, you receive the yellow-colored cells and won't miss any of those trends or ideas for better or worse because its all in the broader market. While the year-over-year performance figures do change, they are much less volatile compared to a single sector and as explained in our market commentary last week, the S&P 500 average annual return is around 10%.
You might be thinking well that's great, but is 10% a good return? Does owning the market average mean average returns versus everyone else? Some of you might be surprised that owning an S&P 500 index fund or ETF will likely lead to better performance versus most active professional money managers who are trying to make sector/stock calls. While there are certainly good active managers, most managers underperform their respective index, especially over long periods of time as shown below: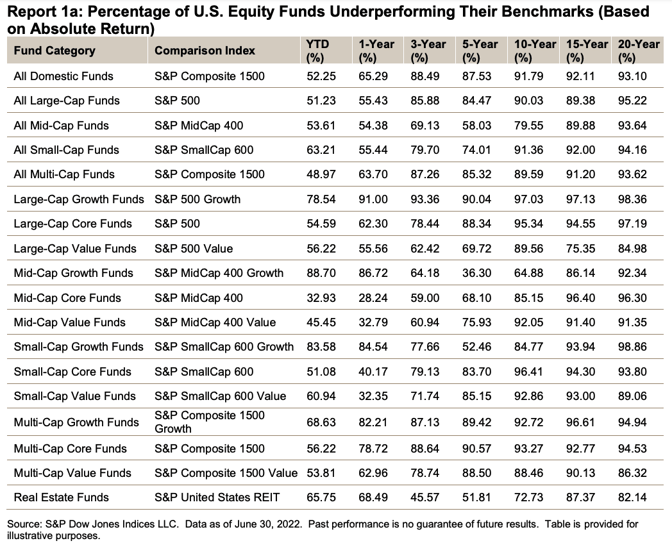 Part of this is due to the management fees charged which erode returns, but most professionals appear to be having challenges at making stock or sector calls. In addition, you have geopolitical, commodity, and economic macro factors all influencing financial markets when trying to pick stocks and/or sectors. It's a tough game to beat and the results prove it.
The S&P 500 Index is 500 of some of the strongest and best companies in the US, and arguably globally too. To be included, companies must meet certain criteria such as market capitalization, profitability, and liquidity among others. Generally speaking, weaker companies are removed and replaced with stronger companies. It's essentially Darwinism in the financial markets meaning only the best companies "survive" in the S&P 500. This 500 name "portfolio" is organized into 11 sectors and is constantly improving itself.
Owning funds or ETFs that track indexes means you'll be exposed to all the latest trends and ideas so there is no fear of missing out. More importantly, owning them is likely to translate to investment results that are better, especially in the long term, than most actively managed funds. If you were having FOMO about being in the right stock and/or sectors, hopefully this commentary provided you the cure or at least some relief.
Disclaimer:
Some of the information herein was obtained from sources believed to be reliable but is not guaranteed for its accuracy. Where such statements are based in whole or in part on information provided by third parties, they are not guaranteed to be accurate or complete. Evermore Capital Inc. is under no obligation to update this commentary and readers should assume the information contained herein will not be updated. Evermore Capital Inc., and any director, officer or employee are not liable for any errors or omissions in the information or for any losses or damages arising from any use of this document or its contents. All opinions and beliefs, herein reflect the author's judgment as of the date of the document, may not be realized, and are subject to change without notice. The information contained in this document referred to index returns that should not be relied upon as a promise or representation as to the future. Consult your own professional advisor for specific investment advice tailored to their needs and based on the latest available information.