October 31, 2022
The S&P 500 is down over 20% (at time of this writing) and headlines such as inflation, interest rate risk and recession seem to dominate the news. There is uncertainty in the market. You might be wondering if now is a good time to enter the market? Or if you should wait? Or maybe just exit entirely? These are all relevant questions but what we need to remember are two things: 1) Wealth is created in the long term and 2) It's incredibly difficult to time the market.
You can create wealth by investing in the markets for the long term – it's the magic of compounding returns. The chart below depicts broad market indices over the past 30 years. If you invested $1,000 in the S&P in 1992 and just keep it there, it would be worth $11,423 or a 1042% return. The same $1,000 in the TSX would be $6,075 today or a 507% return. The MSCI EM Index would be worth $4,206 (321% return) and the MSCI EAFE Index would be worth $2,682 (168% return). Even through these indexes have different rates of return, all of them are up in absolute dollars. That's because over the long term, companies create value by developing new products and services. Unitholders reap these values though higher equity prices, increased dividends, and mergers and acquisitions to name a few. The key point is the longer you hold, the higher your wealth.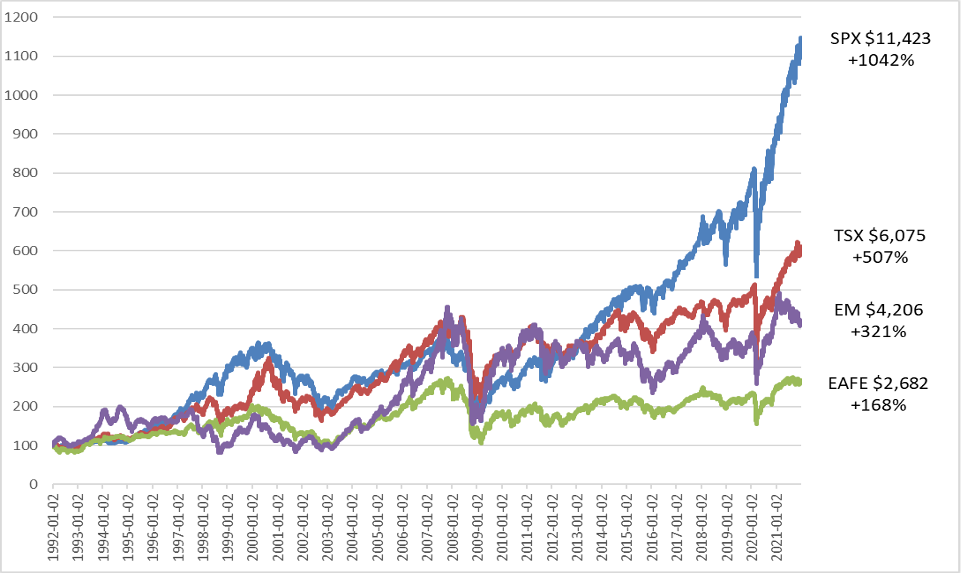 Source: Bloomberg
Ok, but how about timing? Should I buy now or wait? The answer is nobody knows for sure and certainly not with long term consistent accuracy. However, we can look at history to show how the market has performed. The table below illustrates previous recessionary cycles when the S&P 500 was down 25% or more. While the declines range anywhere from 25% to 57%, after 1 year the market bounces back. In fact, in each recessionary period, the market is up significantly after 3, 5 and 10 years. We don't know if we're at the bottom but if history repeats itself, now could be as good a time as any to get into the market. If we were to compare this downturn to previous recessions, the most analogous period would be the 1980s since inflation figures back then are very similar to the levels we are witnessing today.

Source: Bloomberg
Maybe you need a bit more convincing on timing. Let's now take the S&P 500 Total Return Index for the past 30 years which compounded at an average return of 10.6% per year. If you invested $10,000 in a S&P 500 index fund or ETF and simply kept your money in the market, it would be over $208,000. No gimmicks or complicated investment strategies. Just a simple buy and hold strategy to 20-fold your investment.
But let's see what happens if you try and time the market. The chart below illustrates just by missing the 10 best trading days, your investment would now be only $95,000 or a whopping 54% less than if you had just bought and held. For context, let's imagine we're back in the Global Financial Crisis of '07/'08. It is Friday October 10, 2008, and after suffering months of losses in your S&P 500 ETF, you can't take it anymore and sell it. On Monday October 13, 2008, the S&P rallies 11.6% and unfortunately, since you exited the market, you lost out on those gains. It could have just as easily gone down, but you simply don't know. Some of the largest daily gains and losses happened during the global financial crisis and COVID but you don't know which day will be a gain or loss.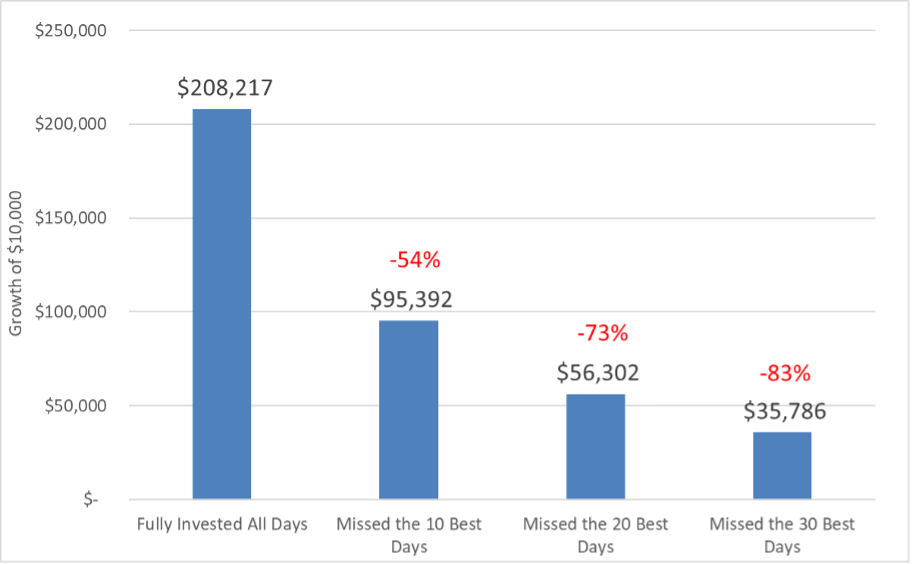 Source: Bloomberg
You can see missing only a handful of the best trading days can have adverse impacts to investment wealth over those 30 years. In addition, if you did decide to time the market, you would incur more trading costs and the emotional stress and time of trying to find the bottoms and sell at the peaks. The data shows you will be better off in the long run by simply buying and holding. At the end of the day, it's about time in the market versus timing the market.