The glide path sounds like the latest viral TikTok dance but while we're still figuring out the dance moves, the glide path is arguably the most unique feature of target date funds.
What is a glide path? It's the mix of equities and bonds in the fund that changes annually as you move towards your retirement date. Early in your retirement investing journey, a target date fund will be heavily weighted to equities to grow your assets, and since you are decades away from retiring, you can weather the ebbs and flows of the market. As you move closer and closer to the retirement date, the asset mix in the target date fund will shift by increasing the fixed income weight which serves to (1) lower your risk, and (2) preserve the assets you have spent years building up to draw upon in your retirement. Remember, this dynamic function is automatically done by the target date fund itself, so you don't have to stress about changing and timing your asset allocation each year. This means you can be confident you are de-risking (reducing your exposure to market volatility) as you near retirement.
2023 marks the first official year the Evermore Retirement ETFs (the first and only exchange traded target date funds in Canada) will glide. This means for most of the Evermore Retirement ETFs, the asset allocations have changed at the beginning of the year to reflect being one more year closer to the target (retirement) date. Below is the summary of asset allocation changes that took place recently in 2023 for each of the Evermore Retirement ETFs: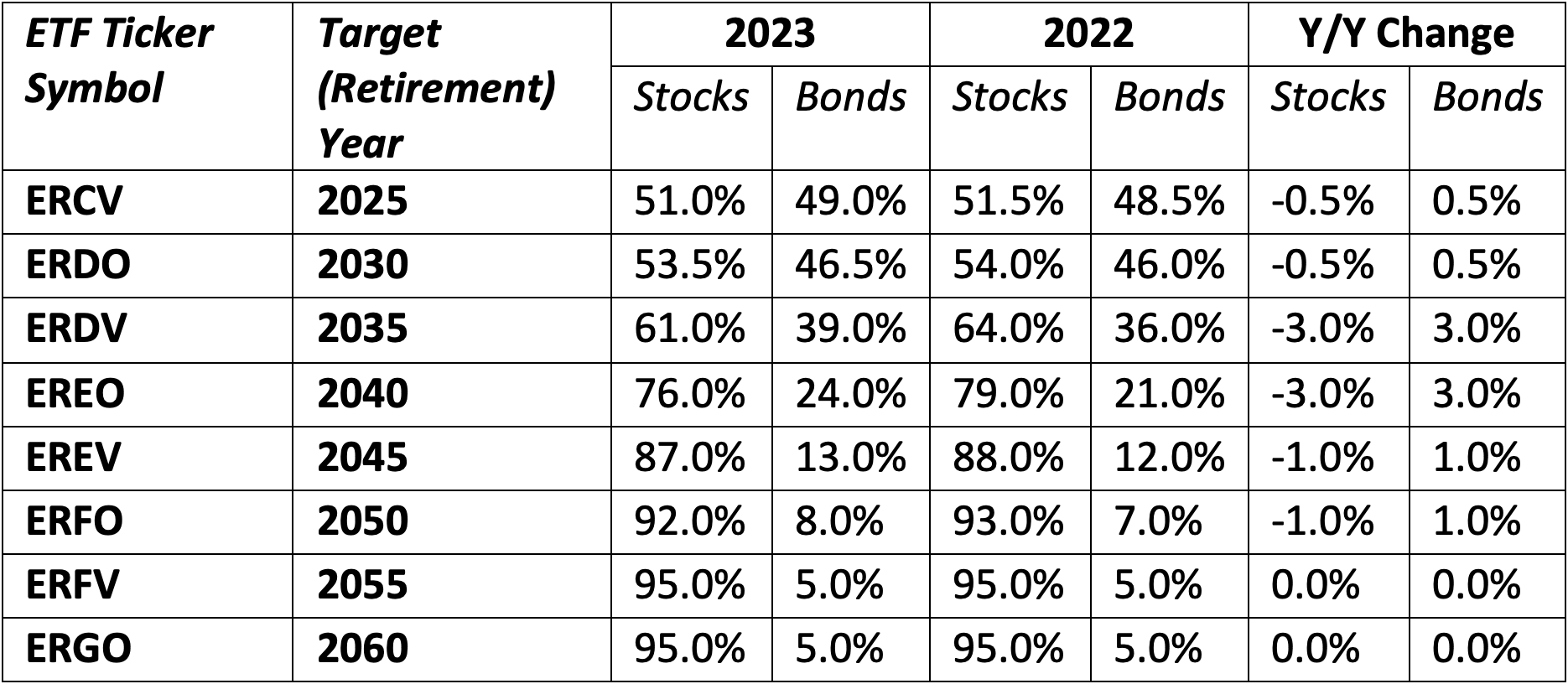 We've also included our illustrative glide path with the equities and fixed income mix over the years and where the respective Evermore Retirement ETF sits on the glide path. For example, take EREO, the Evermore Retirement 2040 ETF, it's 17 years away from its target date and its 2023 asset mix is now 76% stocks and 24% bonds. Last year, that mix was 79% stocks and 21% bonds. For investors who own the Evermore Retirement 2040 ETF, the asset mix has automatically adjusted, and they can go on investing in EREO each year with the confidence the asset mix will adjust and de-risk as their retirement date nears. This also holds true for all the other Evermore Retirement ETFs.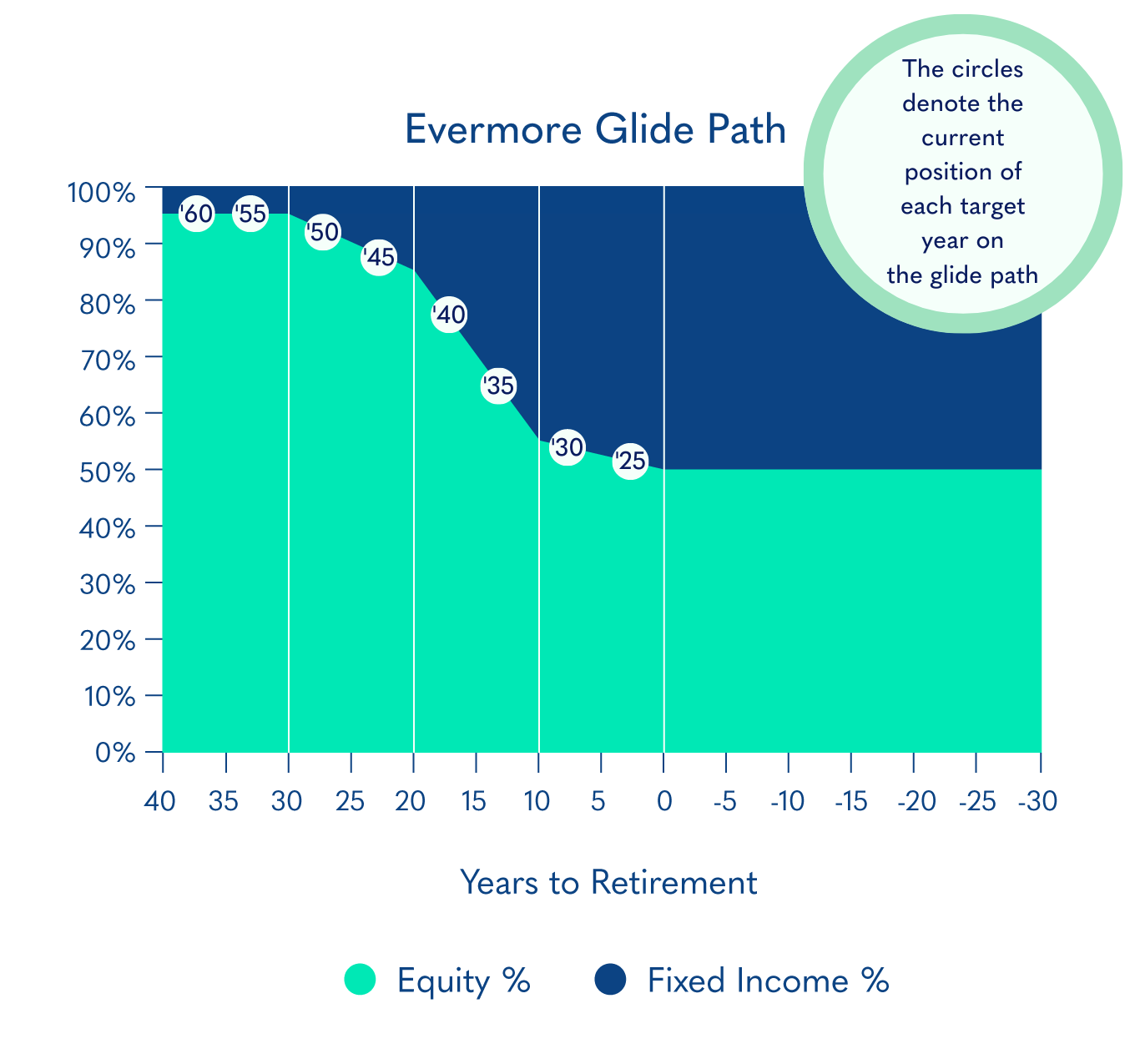 Finally, remember the target date for each Evermore Retirement ETF is NOT necessarily based on a specific retirement age (so you don't have to retire at age 65 if you don't want to). You simply choose a target date fund based on the year you expect to retire regardless of age. If you want to retire in approximately 10 years, the Evermore Retirement 2035 ETF is ideal for that retirement time horizon. And since the Evermore Retirement ETFs trade on an exchange through out the day, they offer the flexibility to investors if their retirement expectations change. Unlike mutual funds or other private pools of capital which require calling someone, filling out forms and waiting months to transact, the Evermore Retirement ETFs are traded on an exchange allowing you to transact any day the market is open. So, if you were originally in the Evermore Retirement 2035 ETF and want to work 10 more years, you can simply go to your online brokerage account, sell the Evermore Retirement 2035 ETF, and purchase the Evermore Retirement 2045 ETF that same day. The asset mix will automatically adjust again to reflect your new retirement timeline and you're back to your normal life. It's that simple and why it's the one stop shop for retirement investing.
Disclaimer:
Commissions, fees and expenses may be associated with investment funds. Read a fund's prospectus before investing. Investment funds are not guaranteed, their values change frequently, and investors may experience a gain or loss. Past performance may not be repeated.