In this blog post we explain what direct investing means and how Canadians can lower their investment fees by opening a direct investing account through the own bank or at one of several available alternatives.
We also have created the short video to help explain direct investing.
Sections
The banks not-so-secret secret
Transferring to a direct investing account
Direct investing means lower fees
Introduction
Canadian investors have almost $2 trillion in mutual fund investments, almost $1 trillion of these investments sit in balanced funds with an average management expense ratio (MER) of approximately 2%.
These high-fee funds exist because Canadians aren't fully aware of their options.
Mutual funds have remained high fee because of various gatekeepers that only deal in mutual funds. Whether that is the financial advisor at your local bank branch, or one of several independent, mutual fund only, advisors across Canada, these advisors have a vested interest in keep you in these high fee funds.
For most Canadians, low-fee, index-based investing provides an improved probability of higher portfolio performance in the long-run versus actively managed, high-fee peers.
Enter direct investing.
Direct investing accounts, available through every single major bank in Canada, give Canadians access to more investment products, including low-fee ETFs, while remaining at the financial institution they prefer.
You may have also heard the terms "direct brokerage" or "discount brokerage" as well. These terms refer to direct investing. They all mean the same thing.
A direct investing account provides access to market traded investments like stocks, bonds, and ETFs, as well as mutual funds. The term "direct" or "discount" is because this is an investment account you self-direct as opposed to using an advisor. As a result, fees have been discounted versus advisor-based investing.
The banks

not-so-secret secret

The banks make a lot of money off selling their own high-fee mutual funds. There isn't a lot of incentive for them to tell you about the low-fee options.

When you walk into a branch and ask to open an RRSP (Registered Retirement Savings Plan) or TFSA (Tax-Free Savings Account), your branch will almost always have you schedule an appointment with a financial advisor who is only licensed to talk about a limited list of products, and the options that the advisor will put in front of you will be almost always be the banks own expensive mutual funds.

Perhaps you've been through this exact process and aren't sure what to do. You've seen ads online and on TV about low-fee investing from online financial services providers, but don't want to leave the comfort of the bank. This is what is so great about direct investing accounts. You get the best of both worlds. You can stay at your bank while getting access to low-fee index based ETFs.

If you contact your branch today and ask them to help you set up a direct investing account for your RRSP or TFSA, they will do so gladly. The bank would rather you hold low-fee investments in an account at their bank than lose your business. You could do this online, over the phone, or by making an appointment at your branch.

Direct investing accounts are available in various categories: RRSPs, TFSAs, RESPs, cash accounts (non-registered investment accounts), and margin accounts (borrowing money to invest).

And if you are at one of those high-fee mutual fund investment companies without access to ETFs, you may need to transfer your accounts out of there to get access to low-fee investments. Unlike the banks who at least can provide you access to low-fee options via their direct investment platforms, watch out for financial services companies that are only about keeping you in their own high-fee funds.
Transferring to a direct investing account
Once you have opened a direct investing account of your choice, you can initiate a transfer of your investments into this account. Account transfers can happen in cash or in kind. Remember to ask about transfer fees and if there are transfer fees, always request waiving them.
In Cash Transfer: All your investments will be sold in your old account and the proceeds will be deposited in your new account.
In Kind Transfer: Your investments are transferred directly from your old account to your new account.
Going from one institution to another can take some time, but if you open a direct investing account with the same financial institution you already have investments with, this process is faster and easier.
Do I still need advice?
Financial advice can be very valuable to help us with things like budgeting, understanding your investment options, setting financial goals, minimizing taxes, and estate planning.
Self-directing your investments does not mean you have to completely forgo advice. Fixed-fee financial planners for instance offer financial advice for a flat-fee. Tax advice is available for fixed fees through qualified accountants. The direct investment account becomes the place where you put these plans in action and keep more of your money working for you.
When it comes to investment selection over the long-term, the statistical evidence heavily favours index-based investing. On the whole, actively managed funds do not have a track-record of outperforming their benchmark markets.
S&P Global produces the SPIVA Scorecard that measures actively managed funds against relevant indices around the world.
The SPIVA site is a great place to familiarize yourself with the performance of active vs index-based asset management over time in Canada and other countries around the world. Based on the numbers, a globally diversified, index-based portfolio geared towards your goals is the way to go (to learn more about goal-based investing, see our blog post here).
Direct investing means lower fees
When you open a direct investing account, you can now access low-fee alternatives to actively managed funds or advisor managed accounts.
Make no mistake. Fees matter.
As an example, let's look at a hypothetical scenario where two investors are both investing $5,000 per year for forty years into portfolios earning an average 8% annual return. The only difference between the two portfolios are the fees.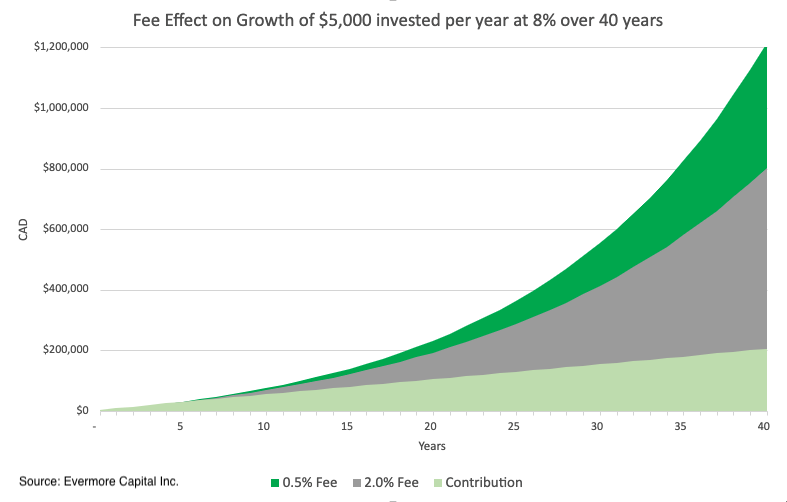 While this graph also shows the power of compounding investment returns in general, it clearly shows what a big deal fees really are.
An investor in high-fee funds loses out on $400,000 in this scenario.
Most Canadians start working in their twenties and retire in their sixties. Most Canadians are in high-fee mutual funds. Unfortunately, this scenario hits home for most of us.
High-fee mutual funds are dominated by actively managed, "stock-picking" funds. As we have seen in the previous section, overall, active management underperforms the market. The marketing machine behind high-fee funds relies on claiming powers they can't in good faith claim to have.
Access to low-fee investing at your fingertips
A direct investing account gives you access to low-fee alternatives like the Evermore Retirement ETFs.
Evermore Retirement ETFs are low-fee, index-based investments specifically built for the goal of investing for retirement, and they are available through any direct investing account in Canada.
To learn more about our suite of Retirement ETFs, click here.